About AVI Splitter
AVI Splitter is an easy-to-use tool to split AVI files.
AVI Splitter allows you to select segments of an AVI file and save them to new AVI files. The program can use to compress or decompress any VFW codec that is installed on your PC, such as MPEG-4 or DivX. The program can fast extract segments from larger AVI files without recompression. It also can automatically split AVI files into equal-sized parts.
To go to the AVI Splitter home page, please click here.
If you have any questions, comments, or suggestions regarding AVI Splitter,
please contact us.
How to use AVI Splitter
To extract segment from an AVI file
Open a source AVI file.
Select a segment using Select Start and Select End commands.
Click Save Selection to save the selected segment to a new AVI file.
Notes
To find a position in the movie, you can use the following key shortcuts:
Right (Right Arrow) - fast forward (press and keep the key to fast rewind);
Left (Left Arrow) - fast backward;
Shift + Right - next frame;
Shift + Left - previous frame.
To fast extract segments, use the Extract video without recompression option.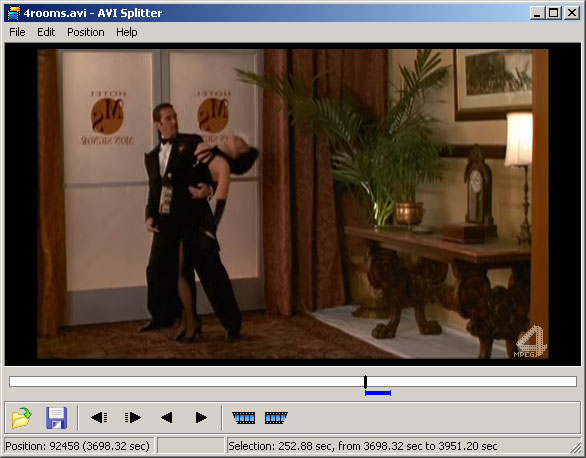 To split an AVI file into equal-sized parts
Use File > Split into equal-size parts menu command.
Select a source AVI file.
Select the number of parts.
Select the output folder.
Select the file name prefix of output files. The name of output file consist of the prefix and index of file.
Click Split.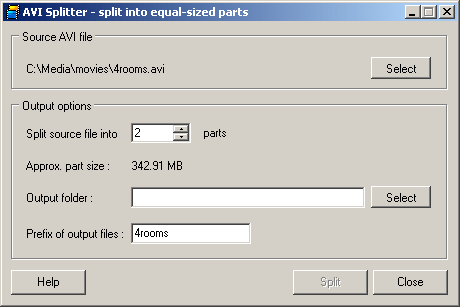 Notes
Some AVI files can be split only in keyframe positions. For this reason, the split files may have some differences in the size. The difference value depends on repetition rate of key frames in the source file.
Trial notification
You can free download AVI Splitter from our site for evaluation. The free evaluation period is 7 days, then the program will be locked. To unlock AVI Splitter, you should purchase and input the registration key.
Please see our web site for the latest pricing and purchase methods.
---
Copyright © 2011 BRIZ Software. All Rights Reserved.